Today I'm linking up with Stephanie, Laura and Cait for Can't Live Without It Friday.
To kick off my first time linking up with these ladies, I've decided to share something that I literally can't live without EVERY. SINGLE. DAY!!! I have always been a lover of handbags, big ones, small ones, every different color or style of one, I love them!!! So I knew when I was pregnant with Brynlee that not just any old diaper bag would do, I mean come on ladies, we carry these things with us wherever we go for a very, very long time!!! I knew that whichever one I chose needed to be something that I wouldn't mind carrying every day for the foreseeable future and that it would also need to be functional! Functionality is key here, no matter how cute a diaper bag may be, if it doesn't suit the needs of mama it won't be pretty…
Well, let me tell you, after almost two years of carrying this thing basically every day, this Timi and Leslie diaper bag fits the bill. I got mine at Buy Buy Baby and used a 20% off coupon.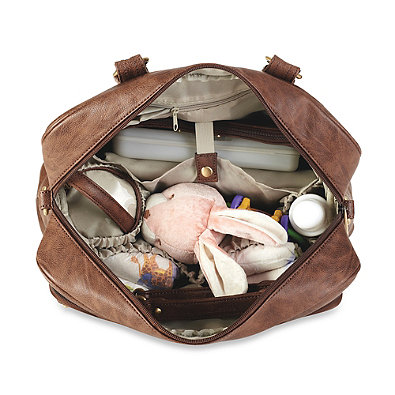 image via
The zipper on top opens really wide, so even though this bag is fairly deep, it's easy to find things.  It has 5 interior pockets and 1 interior zip pocket. Four of the interior pockets have elastic at the top making sure your items fit securely. Two of these pockets are on either side making them the perfect holder for a bottle or sippy cup for baby and also a spot for mama's water bottle. The other 2 are on the front of the bag, I keep diapers and wipes in one (it is the perfect size for diapers and can easily fit 5 or 6) and in the other I store sunscreen, lotion, rash cream etc. The 5th pocket is a large one that runs the length of the back of the bag with a snap closure that is perfect for the diaper changing pad that comes along with it. The 6th pocket, that has a zipper enclosure, is quite large and I've always used it for a spare change of clothes for Brynlee as well as keeping a bib in there. That leaves the entire center of your bag for whatever else you need. In my case it's usually full of toys, books, snacks and my little wristlet bag.
It also has two outer pockets for easy access. The one on the left I use for my stuff, cell phone, chap stick and lip gloss, hand sanitizer and anything else that I might need quickly. On the right I have stuff for Brynlee, thermometer (yes, I take it everywhere I go and that has come in handy on more than one occasion), small tube of Aquafor and her sunglasses.
On the back of the bag, it has another zipper pocket that I admittedly don't use very often, mostly because I take advantage of all of the other pockets and sometimes forget about this one, but it is nice to have in a pinch, or sometimes I will put my shopping list and a pen in there.
Which brings me to another wonderful thing about this bag, it comes with a small mama bag that holds all of your cards and other important mama stuff and makes switching into a normal purse, for the occasional date night, super easy! A lot of the time I will grab this little purse when I am just running in and out of somewhere and I don't want to lug around the diaper bag and Brynlee.
It also comes with stroller hooks, OH MY the stroller hooks!!! Complete lifesaver!!! I really don't know what I would do if I had to carry my diaper bag everywhere we went… my arms would be a heck of a lot stronger, that's for sure! I love having these stroller hooks and to make it even easier on myself, I picked up a couple of these at Buy Buy Baby so that I could just loop the stroller hooks on instead of unlatching them each time. I would highly suggest going this route, while I do love the stroller hooks, the latch is kind of a pain and sometimes hard to get, especially if you are in a hurry and have a screaming baby, it's a place we've all been and never want to go again, amiright??
image via
This bag also comes with a very convenient wet bag, I can't tell you how many times I have appreciated having one of those! And an insulated bottle tote, which came in very handy in Brynlee's infant days. There is also a key fob on the interior of the bag, I mentioned how deep this bag is, well this makes finding your keys a snap! And it's also something that I probably need to use more often… Oh well. It also has a removable cross body strap that is adjustable. I just leave mine on all the time, I like having the option of carrying the bag cross body or on my shoulder, so it works out well. I really can't sing enough praises for this bag. Honestly, I don't know that there would be anything I would change about it. It even comes in a few different colors so you can pick whichever suits you best. I really love this bag and would highly recommend it to any mama looking for something that is super functional and stylish enough to be worn every day.